The term "securing the perimeter" refers to an order given to protect an area from outside forces and enemies. When we think of primary schools in Kenya, our mind goes to children laughing and playing, or singing and chanting with their teachers. We don't usually consider them having to face dangers from outside forces or enemies. But anyone who has traveled in developing nations knows well that such dangers are real. Most are a result of a lack of resources.
Infrastructural Problems
A UNESCO book titled "Improving the conditions of teachers and teaching in rural schools across African countries" provides an "objective assessment of facilities in rural schools [that] reveals a gross and unacceptable state of infrastructural decay." The findings show that primary schools in particular suffer from these problems, stating that "[t]he vast majority, … have no water, sanitation and electricity …" Notably, the report shares that "[f]ew schools have a perimeter fence or enclosure, making them open to intruders and vandalism." Even though the report was written in 2011, it still carries weight today, pointing out that a lack of security "…is one of the major reasons for the prevailing crisis in the education system in many African countries." (p. 68)

A Rural School
A year ago this September I had the opportunity to visit a primary school in rural western Kenya. Getting there was an adventure. Our team drove through the city of Rongo and up into the hills of Migori County, watching the smooth tarmac turn into rough dirt roads. I marveled at our driver David Kiboi's ability to navigate the rocky terrain leading up to the school. At the same time I marveled at the magnificent scenery. It was beautifully reminiscent of other places I'd been around the world. Every so often I'd ask David to stop so I could try to capture the view, all the while knowing that my cell phone wouldn't do justice to what I was taking in.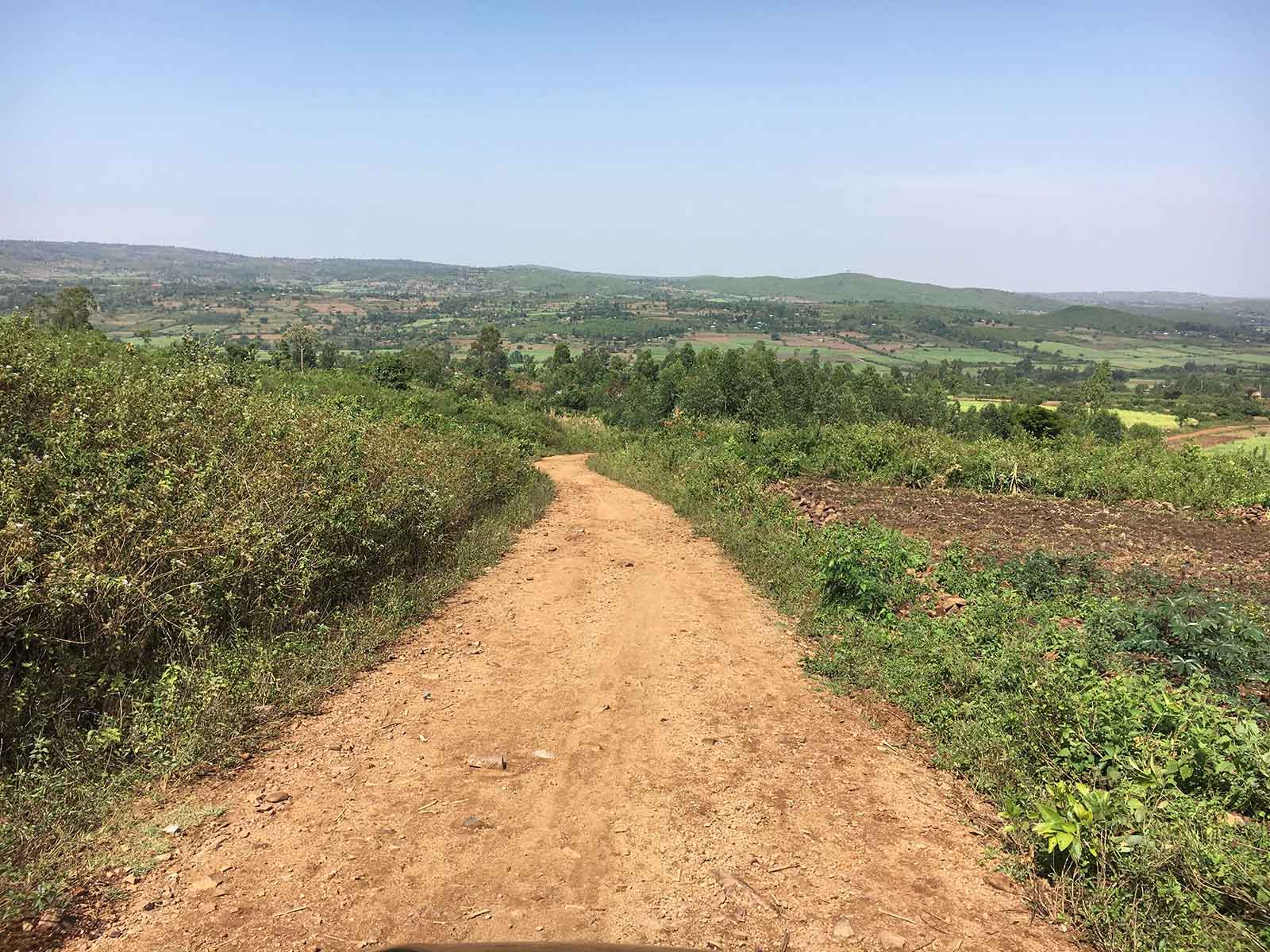 The Miruya Primary School is located an hour and a half from EC Program Coordinator William Aludo's home in Rongo. The school is at the end of a long driveway, offering small comfort to the administrators who are concerned for the school's security. For years there has been no gate or fence to keep out intruders.
A group of children were having their lessons outside. We were told they had given up their classroom to provide a meeting room for "the visitors" (us). Our visit was long enough to meet staff and students and see everyone eating lunch. We also saw firsthand some of the challenges these students and their teachers face every day.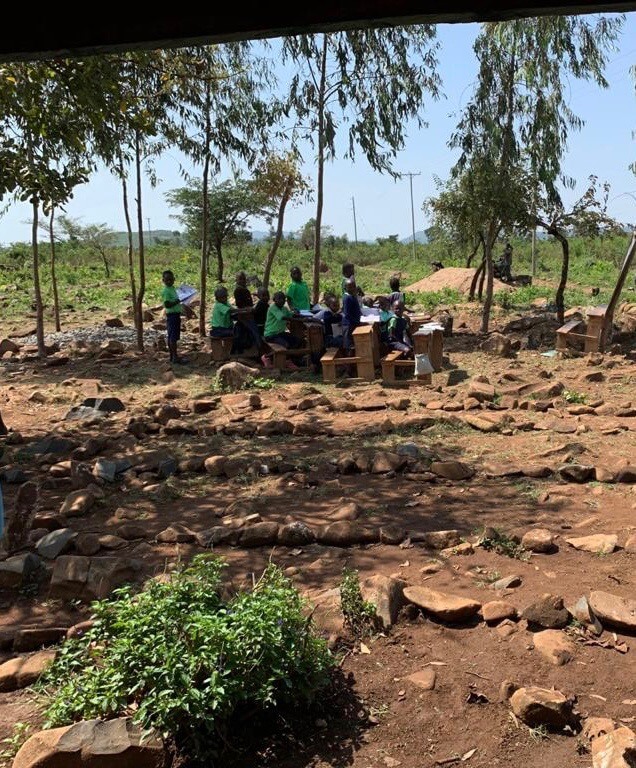 Daily Challenges
The schoolyard was full of rocks, making a trip to the outdoor washroom a treacherous venture. The classrooms had very little in the way of educational materials. There was no designated dining area; instead we saw children lining up along the back wall of the building to eat their meals. And finally, teachers and staff lacked a secure place to plan their lessons and keep their supplies.
Securing the Perimeter
Everyone's Child has been working hard to upgrade conditions at Miruya Primary School since 2018. That year we raised funds to build a new kitchen (pictured below) in honor of Sr. Kateri Walker. Last summer we held EC's first matching fundraiser, raising enough funds to build another classroom at this school. Unfortunately, the pandemic prevented the building start date. However, today I am excited to announce that the project is ready to begin, starting with the construction of a fence securing the perimeter of the school grounds.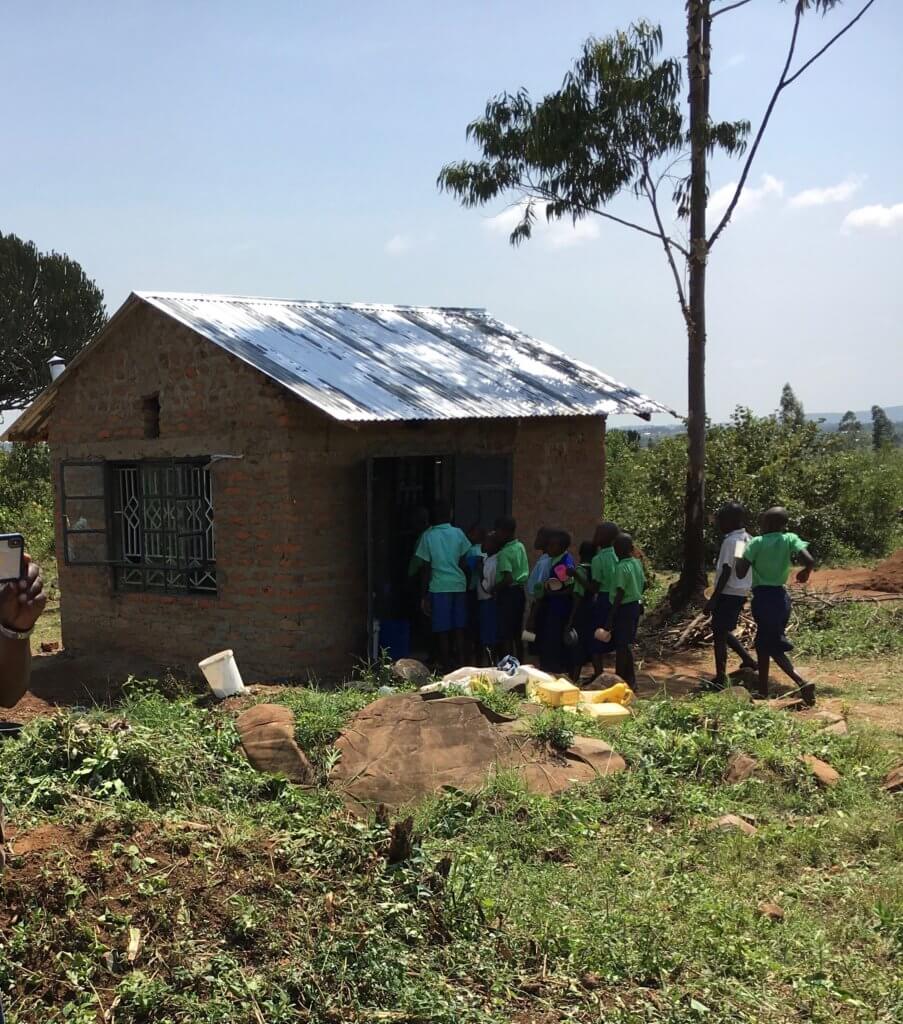 In the coming year, EC will continue providing food for close to 600 orphaned and vulnerable students in eastern and western Kenya. Nearly 200 of those children attend the Miruya Primary School. We also have plans to continue establishing this school as a safe place for children to learn. If you would like to contribute to these efforts, please consider making a donation by clicking here. Your tax deductible gift goes a long way to providing for Kenya's youth, making it possible for children all across this beautiful country to be educated safely.
As always, asante sana, deep thanks for keeping these children and their future in your hearts and prayers. They truly do belong to all of us.
Stay safe, and be blessed,
Ruth