There are more than
2.2 billion children in the world today.  It is estimated that 153 million children of these are orphans (UNICEF).  That moves my heart.  But caring for all of those children is beyond my reach, beyond my capabilities.
Everyone's Child serves over 500 orphaned and vulnerable students.  That's a lot less than 153 million, but it's still a large number of children to keep track of.  We rely on our staff, as well as the teachers and administration we partner with to let us know how they are all doing in their studies and in their lives.  Thankfully, whenever I travel to Kenya I have the opportunity to meet many of these children.  And there is always at least one who captures my attention each time I am there.
Simon Wanjala
This was the case with a young man named Simon Wanjala.  Simon was one of EC's first scholarship students at Bishop Edward Donovan Secondary School (BEDSS) in Lanet Umoja.  This scholarship allowed him to complete his high school education.  I met him once or twice while he was enrolled there, but it wasn't until after he had graduated that I began to learn about his life.
Simon was an orphan and was also a victim of the post-election violence that took place in Kenya in 2007.  He and his brothers were displaced five times in the span of four years.  He wound up living with family members who mistreated him as he struggled to complete his high school education.  Despite these hardships, upon graduating Simon found a job teaching in a primary school, and eventually was able to find a place to live.  He brought his two youngest brothers into his home, and gave them an opportunity to complete their education together.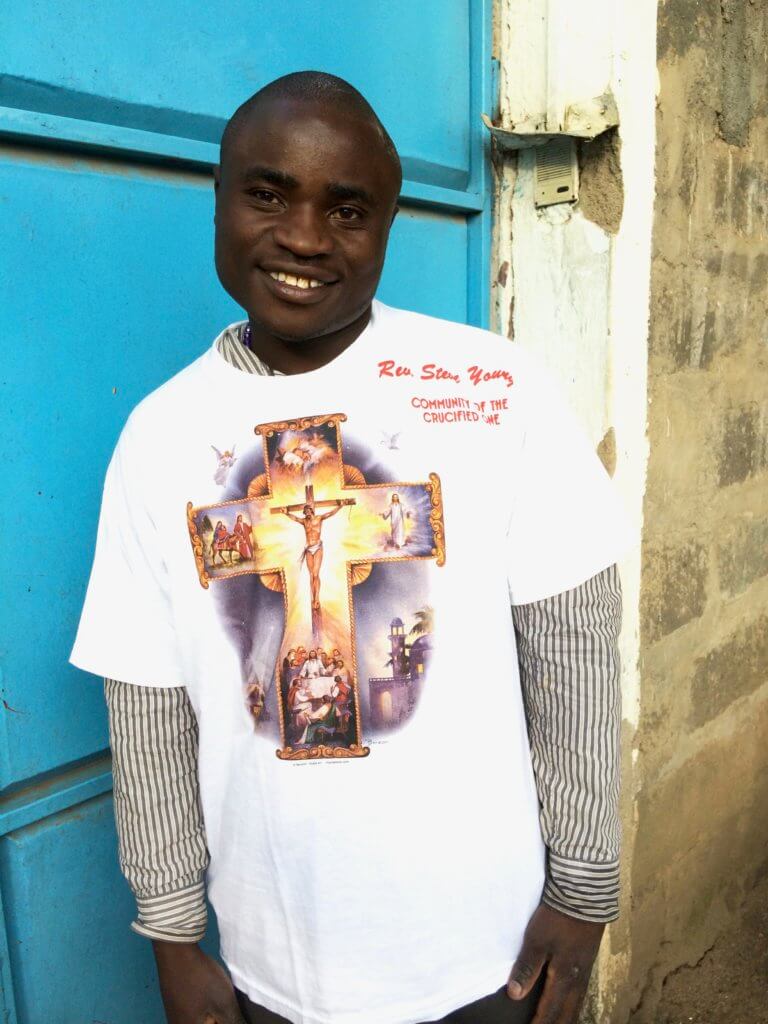 His story
The overriding aspect about this young man is his attitude.  In spite of the difficulties he faced, the loss of his parents, his home, and his struggles to survive while completing his education, Simon has always been upbeat, positive and thankful.  After graduating from BEDSS he went out of his way to thank EC for the education he received.  That single act made a lasting impression on me.
Today Simon is a successful entrepreneur who owns a shop selling kitchen wares in Nakuru, Kenya.  He also volunteers his time for Everyone's Child, taking food to the orphans in Kampi Ya Moto and assisting in EC's Mentoring program each month.
Last year I wrote a story about Simon's life and mailed it to all of our contributors.  It's a story full of hope, and shows the difference that supporters of Everyone's Child make in the lives of those who count on our help.  The story can be downloaded here.
Caring for children
I've thought about caring for children for as long as I can remember.  As I grew into adulthood that transpired into serving the needs of orphans and vulnerable children.
There is no doubt that supporting all of the world's orphans would be an overwhelming mission.  But I do know that each one of their lives is important.  And I'm grateful to be able to help even one of the 153 million who are alive today.
Everyone's Child begins by focusing on the one.   But a task is always easier when others join in to help.  Please click on this link if you would like to help to make a difference too.
As always, thank you for partnering with us to make life easier for people like Simon.  I hope you enjoy his story.
everyone's child.  changing a generation through education.