Newcomers
When Tracy Guion, EC's Messages of Mercy Program Coordinator, William Aludo, EC's Kenyan Program Coordinator, our driver David Kiboi from Nairobi and I visited the Miruya Primary School in Migori County last month we were treated to a song called "The Lord has Something to Say". The students who sang it were shy, waving at us from a distance but clamming up when we got close to them. That made sense; their worlds involve home, school and the 3 – 4 km walk between those two places. The sight of these newcomers was a bit startling, especially given the differences in our skin color and vocal accents.
A Song
A group of fifth and sixth graders were seated outside when we arrived, their desks balancing precariously on the rocky ground. These students share a classroom in the school building, but they had taken their desks out into the school yard to make space for a meeting that would take place later on with "the visitors" (i.e. – us). Despite their displacement and timidity, they managed to sing a call and response song for us. I've posted a video with the lyrics below:
"The Lord has something to say,
The Lord has something to say.
Listen, listen, pay very close attention.
The Lord has something to say."
Taking Notice
I've been around young children too long not to sit up and take notice when a child says something that sounds like a message directed at me. There have been many times when a student has said or done something that catches my attention. Educators call this a "teaching moment", which usually pertains to an adult teaching a student and not the other way around. After the second chorus I decided that I was the student and this was one of those times to be especially attentive. The message eluded me at the time, but in the days that followed their song came back to me over and over again.
A Scenic Area
This was the second day of our trip and Miruya Primary School was the first of several schools we planned to visit. I had been to Migori County in western Kenya one other time and was once again awestruck by the beauty of this area. The hillsides were covered with a checkerboard of fields, looking for all the world like a scene from Ireland or Vermont.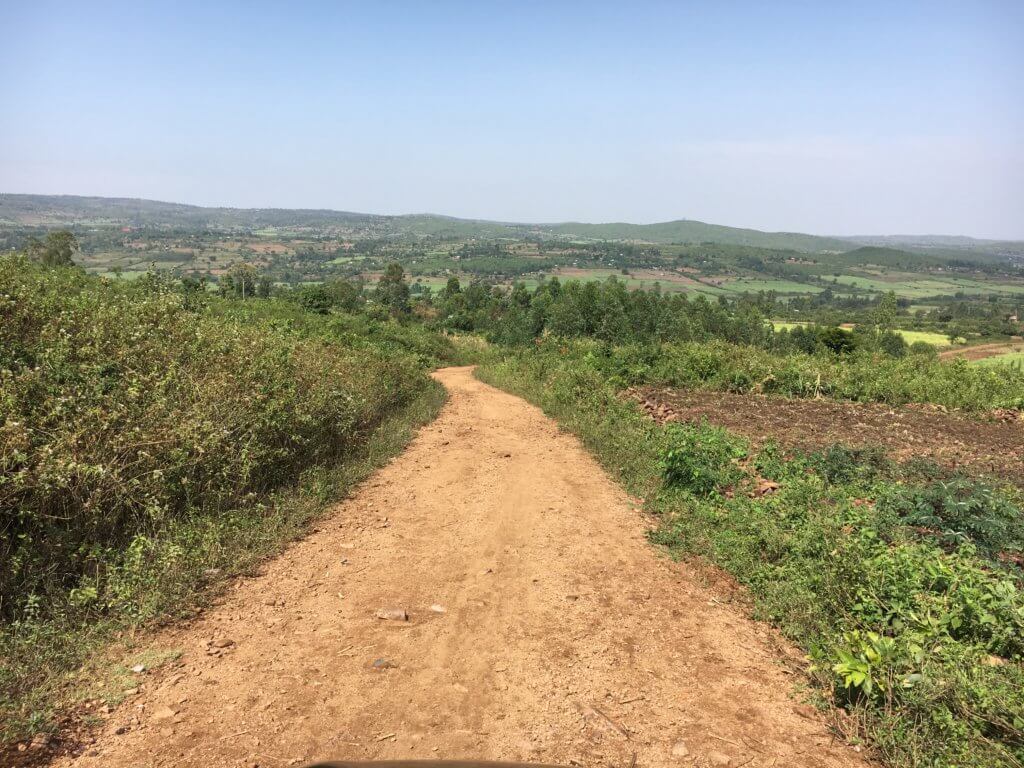 But the moment we stepped onto the school grounds we became aware of the challenges that people living in this rural area face every day. The schoolyard was riddled with rocks, making walking hazardous and a game of tag an impossibility. Classrooms held little more than a chalkboard and rough wooden benches attached to planks that served as desks. Two or three students shared dog-eared books. The windows had glass, but there were no educational posters on the walls and teacher's desks were non-existent. Most of the 165 students enrolled wore the school uniform of green and blue, but children who had just joined the school wore hand-me-downs or whatever was available at home.
As we moved through the classrooms, children reacted timidly to our small group, some smiling shyly and waving, but most viewing us with wide eyes. It was plain to see that they knew William, who is Chairman of the Board of Management at the school, but we were unfamiliar to them.
Sharing lunch
Not long after we arrived it was time for lunch. We went behind the school where children were lining up at the new kitchen that EC supporters helped to build last year. We had brought along a "Kateri's Kitchen" plaque to put up on the building, dedicating this kitchen to the memory of our dear friend Sr. Kateri Walker who was so instrumental in building EC's orphan feeding program.
The children ate their meal outside, leaning against the wall of the building, some waiting for others to finish so they could share the bowls which at that time were too few for the growing enrollment. I shuddered at the thought of the germs that were also being shared among the children. (Since then, 200 cups and bowls have been purchased and brought to the school.)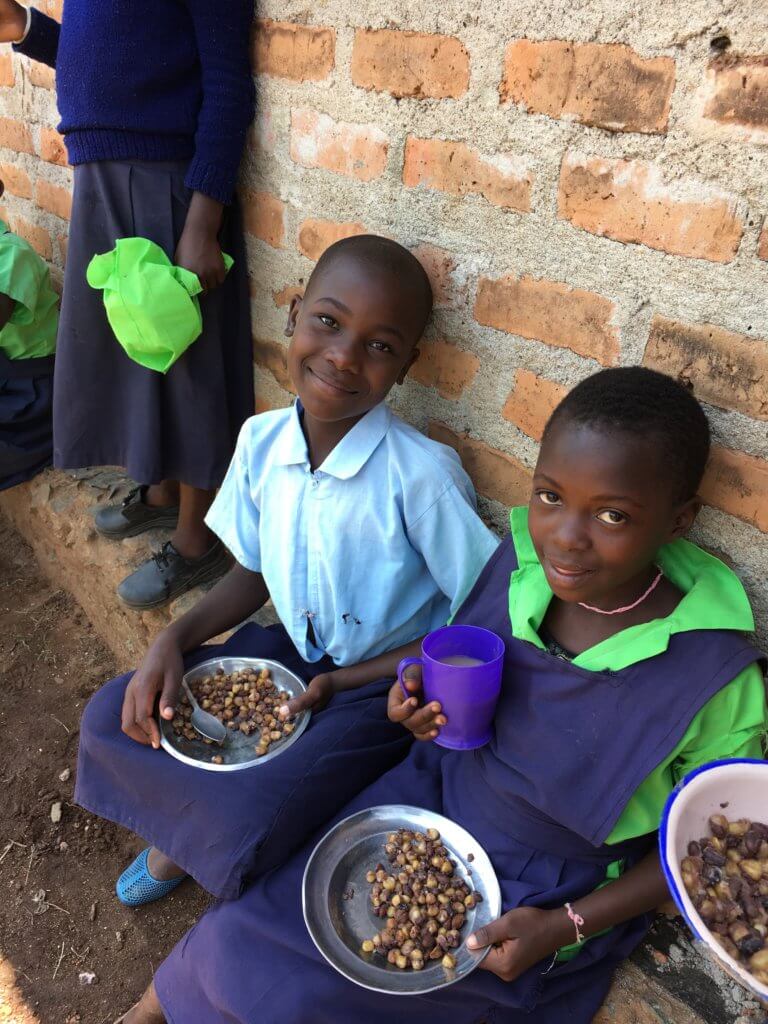 The Lord Has Something to Say
After leaving Migori County, William, David, Tracy and I spent the next four days visiting other schools where for the past ten years supporters of Everyone's Child have provided meals, uniforms, clean water, classrooms and connections with peers in other countries. As we traveled from school to school, I thought about the song I had heard at the Miruya Primary School and wondered what I was meant to learn from those shy children and their little tune.
Everywhere we went we were met with smiles and laughter. Students were pleased to show us what they had learned in school. It was encouraging to see the changes that had taken place, especially as several of the schools we visited had started in rocky fields with less than a hundred students and few resources at hand. Enrollments have increased, and children are happy and proud of their schools, as evidenced by the smiles on their faces and the high scores they receive on their national exams.
Another major change has been the establishment of partnerships between EC and the school administrations. Several of these schools now share the financial responsibility of supporting orphans in their programs with us, a first step in building self-sustaining programs on the ground.
Every Journey Begins with One Step
As our trip came to a close it became clear to me that the message hidden in that song was for us to stay the course and continue building at the Miruya Primary School. The children in this area are poor and need a school within walking distance of their homes. The changes I had seen in the other schools we visited reminded me that every journey begins with one step, and that rather than be discouraged by the enormity of the task, we should be encouraged by what has already been accomplished.
Addressing the Needs
There are many needs to be addressed at Miruya Primary School; the most pressing being to continue providing students with a daily lunch program. The school yard needs to be leveled and a security fence has to be installed. The funds raised with this summer's Matching Challenge will build a classroom for next year's seventh graders. The administration expects the enrollment to increase each year, so additional classrooms will need to be built.
The EC Board of Directors and I are excited about the opportunity that lies ahead for us to help the children at this school, with an eye toward building a successful partnership and eventual self-sustainability.
If you would like to contribute to this effort, or to any of our programs serving orphaned and vulnerable children, please click here to make a secure online donation. Feel free to send us an email at [email protected] to learn more about our programs. We'd love to hear from you!
As always, asante sana – thank you very much for your interest in and support for what we do for the orphaned and vulnerable children in our world. You are making the difference that brings the change for them!
Blessings,
Ruth