The end of the year is here and EC's annual appeal has been sent out far and wide. So far the response has been tremendous! Our goal is to raise $25,000 by the end of 2018. As of this writing, our supporters have contributed over $14,000 in the space of one month. We are well on our way to meeting our goal!
A Year of Growth
I am amazed when I look back at all that has happened in 2018. This has been an expanding year for Everyone's Child. With your help we have provided over 500 children with a daily meal in five different locations, given an education to 15 orphaned secondary students, and sponsored a Mentorship Program for orphaned and vulnerable teens. Together we also built Kateri's Kitchen and dug a well for an impoverished village in northern India.
This year we saw the establishment of the EC Kenya Board of Directors, and welcomed Jedidah Kuria – a graduate of our sponsorship program to our Kenya staff. We received a grant from CBN allowing us to pay teachers at Miruya Primary School in western Kenya. Those of you who follow this monthly blog have seen the photos and read the stories. Hopefully, you've felt the hope and love that emanates from each posting.
Your Support
It takes a lot of effort to build something – whether that "thing" is a physical building, a program, or a relationship. EC's Board of Directors and I spend a lot of time planning, praying about and discussing the direction for this non-profit. I believe that the same can be said for those of you who support what we do. Your contributions are not something we take lightly, so it is with great heart and much gratitude that I offer my thanks to you in this season. We understand that there are many organizations doing wonderful things for children all over this world, which makes your support that much more meaningful to us.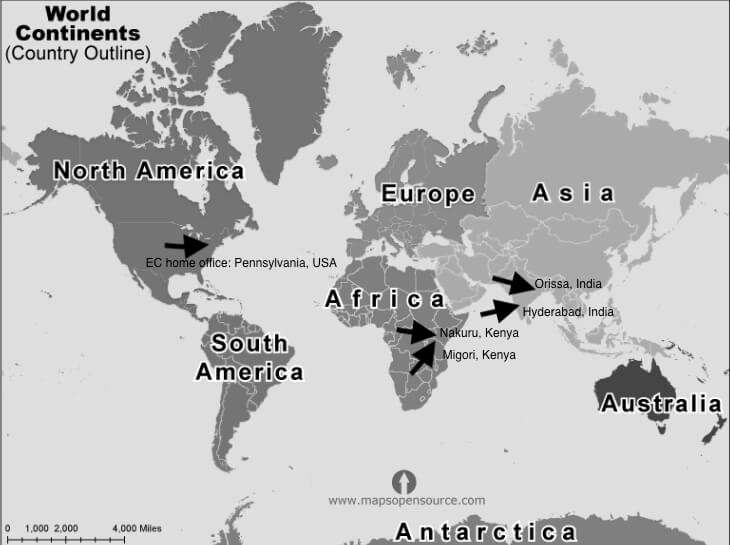 During this season of giving
I am writing to ask you to please continue working alongside us as we serve the orphans and vulnerable children who are counting on us for their education and their future. If you have not already given, you can learn how to make your contribution by visiting our donate page.
All donations are tax-deductible, used for and appreciated by the children we support. With your help we will continue changing a generation through education.
With warmest wishes for a blessed holiday,
Ruth